St Petersburg Document Shredding
At St Petersburg Document Shredding, our mission is to provide economical shredding options for offices and homes throughout St Petersburg. We understand the need to handle your sensitive records with extreme care. With several shredding options, your get the right service based on your documents, volume, security, and budget.
About St Petersburg Document Shredding
St Petersburg Document Shredding offers numerous shredding service options designed to go beyond your requirements for security and convenience at reasonable prices. Whether you have one box or one hundred boxes of papers, our contractors can get the job done quickly without interrupting your normal business operations.
Shredding documents with personal information is not an option for St Petersburg businesses these days. Federal and state laws in Florida prohibit careless disposal of employee and business records.
St Petersburg Document Shredding is compliant with all of the laws in place and will send you a certificate verifying each shredding job you send us has been properly and totally completed.
Don't settle for any ordinary shredding service. Get the service that fits your needs and is cost-effective. St. Petersburg Document Shredding will send you multiple quotes for your area, whether you are in St. Petersburg or Tampa.
Residential Shredding in St Petersburg
Shredding services are no longer just for large businesses. Having a truck a come right to your doorstep can be a cost-effective way to destroy your information if you have several boxes of paperwork.
Don't spend hours (or even days) feeding one paper at a time through your personal shredder. Have professionals come to you to get the job done quickly, affordably and securely.
Your security is our priority, and all of our contractor's processes comply with all Florida and federal privacy laws. Our partners handle jobs ranging in size from one box to warehouses full of paperwork, and they can stop by as often as you need.
St Petersburg Document Shredding is your premier source for secure, reliable and quality shredding service options in the St Petersburg metro area.
For more information on St. Petersburg Document Shredding, give us a call at (727) 498-5313, or request a FREE quote today.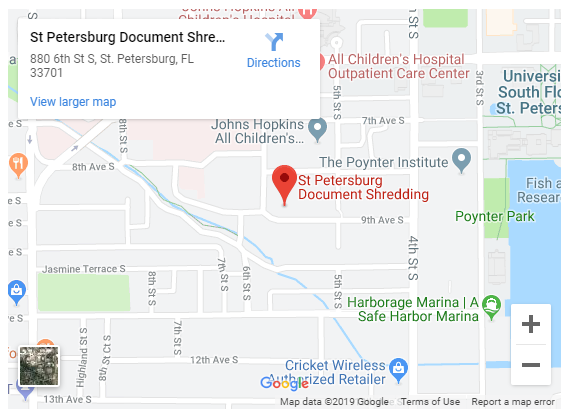 Get Free Shredding Quotes in St Petersburg
Services Available in St Petersburg
St Petersburg Service Options
Ongoing Service – Daily, weekly, and monthly scheduled shredding service. You are given locked shred cabinets for office, you fill them up, and a driver stops by on a regular schedule to shred the contents.
Purge Service – Annual, one-time, or occasional shredding services. A driver comes to your location one time to shred your documents. Costs are calculated by volume.